We live in a small 3 bedroom house and are always trying to come up with creative ways to use that space. I was came across this blog post over at Let The Children Play and was inspired by the flow of their preschool. Their were well defined dramatic, construction and creative spaces without separation.
We looked at the layout of our house. Because we were using the house the way the designer had in mind (pretty much, we were using the master bedroom as a toy room)the girls had 3 very separate spaces. A room to sleep (for the big 2, Harper sleeps in with us) a room for toys & play and the art space was in the dining room so it was on the tiles. These spaces were all over the place.
After much chatting and consultation with my bestie, we decided to use the master bedroom and the lounge room as our "pods" as they are adjoining and it is a decent amount of space. We made the dining room the lounge room-which makes it off the kitchen which is really working for us-and the room that Tannah and Willow were sleeping in became the dining room.
Would you like to see photos? I thought you might.

View from the front door. This is the art space and construction corner. I decided to put my computer table in this room so we could all "work" together and the girls would be able to use the computer as well (until I get my iPad-one day!). The extra table in the middle has so many uses from setting up play scenes to eating lunch!

This is our building/construction corner.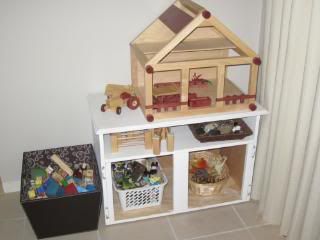 On the left is the farmhouse with the Schleich animals and dinosaurs underneath. Also some wooden fencing and a tray of natural materials such as shells and leaves. The big box is wooden blocks.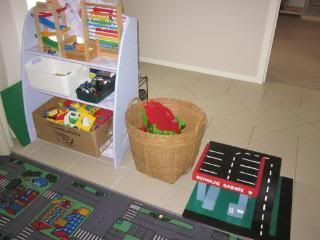 To the right is cars, trains and track and duplo with a few random bits and pieces.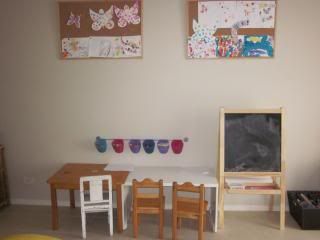 This is the art table. I took a LOT of inspiration from this post at Childhood101. It might look a bit bare now but those corkboards are usually full to the brim! The containers on the rack from Ikea have been a massive hit with my girls. They love having some supplies where they can be easily accessed without help.


The art cupboard has all out supplies in there as well as puzzles and games, marble runs and a shelf just for my stuff!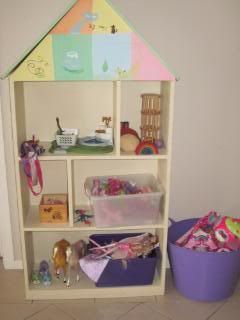 This is on the left hand wall and houses all of the toys my girls love like their Polly Pockets, My little Ponies, Barbies and Playmobil-as well as a selection of well loved Waldorf type toys.

A view of the bedroom from the door. They have a small walk in robe and even smaller ensuite off to the left-it might seem excessive but this will be a bedroom for three teenage girls eventually! This room has all the dramatic play gear in it as well as a reading nook. I think having a bed in here works really well as it can be a baby's bed, a hospital bed or a boat! It can transform to fit the imaginations of the children.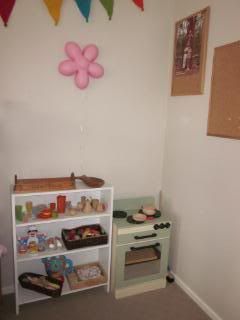 Kitchen corner. All the bits and pieces are easy to see on the shelves. Tannah and Willow have a cork board each to pin interesting things up on. I'm keeping my eye out for a little kids sized "dining table".

Dolls table, dress up station and soft toys.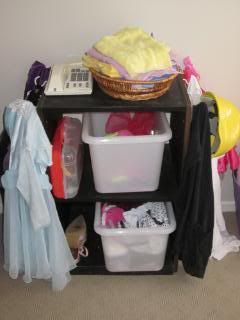 Dress ups are hung on cup hooks on the side of the storage unit (from the tip shop!) so the clothes are easy to see and the smaller bits are in buckets. Playcloths are in a basket on top.

The reading nook-my favorite! The L-shape of the bunks makes a cozy cubby underneath. We put an LED touch light in there and made a display for the books simply by nailing in two pieces of wood at the bottom of the shelf. Children find it much easier to choose from a smaller selection of books which I can rotate regularly. Add a beanbag and reading heaven.

So there you have it! I wanted to add that ALL the shelves,the wooden stove, computer table, wooden kids table and many of the toys were bought second hand. Either at garage sales, the tip shop or eBay. We cleaned up and modified them ourselves-well my husband did. The most expensive thing we bought was one Ikea desk ($70) and most of the storage tubs were bought brand new but not all at once. making your space more user friendly doesn't have to mean masses of room or lots of money spent-and it doesn't have to be all done at once. I have been preparing for well over a month and used a list to help me buy what I needed a little bit at a time. And to hit some garage sales!
Now to get playing and creating!
This post first appeared on my previous blog "Yay For Home!"